Barnes and Robinson introduce their range of affordable Electric Bikes and Scooters to the U.K.
by Jamie
(Burnley)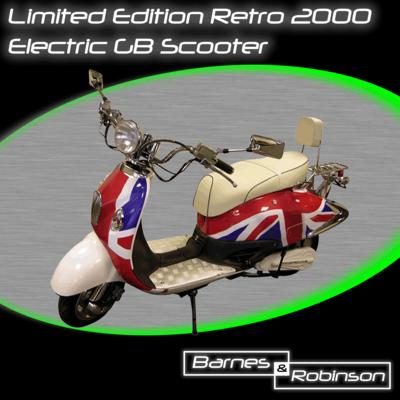 Barnes and Robinson Limited Edition GB Electric Road Scooter
With the news this week that the number of driving tests being taken in the U.K. has dropped by a staggering 200,000 compared to figures from 2005, thanks mainly to the ever rising cost of conventional motoring, Barnes and Robinson is proud to showcase its range of affordable Electric Bikes and Scooters.
Powered by a robust 2000 Watt electric motor achieving the equivalent power of a 50cc road scooter, our Retro 2000 Scooters aim to spell the end of costly visits to the pumps and, with zero emissions, an end to road tax and congestion charges for U.K. motorists.
With its simple "Twist-and-go" controls and no gears to worry about the Barnes and Robinson Retro 2000 is one of the most user-friendly and easy to ride vehicles on the road making low-cost, green motoring accessible to more people than ever before.
Whilst our scooters help motorists save money when they're on the road, we don't charge the earth to get them on the road in the first place. All our Scooters come registered, taxed and ready to go from just £1,500!
With practicality and affordability our main focus we haven't neglected style. The Retro 2000 range is named for its sleek design and its throwback to the timeless fashion of the 60's mod scene. For the more adventurous individual we also offer a customisation service which allows you to design your very own unique Scooter like the Union Jack Design above for an additional cost of around £450.
Scooter Specification
Barnes and Robinson Retro 2000 Electric Scooter
Power = 2000 Watt 48 Volt 50A Brushless Motor
Battery = Maintenance free Lead-Acid Battery Cell
Maximum Speed = 30 MPH (Restricted)
Charge Time = 8 Hours
Range = 30 Miles
Wheels = 10 Inch Stainless Steel Rims
Brakes = Front: Disk Rear: Drum
Throttle = Twist Throttle on the right
Colours = Black, Silver, White, Custom* (Additional cost*)
To complement our range of road scooters we are now offering a range of Electric Mountain and City bikes. With only the 36V 10Ah battery distinguishing these stylish bikes from ordinary pedal bikes, the Barnes and Robinson electric bikes offer easy riding to the masses.
The pedal assist system can be adjusted to suit all riders needs using the simple handlebar mounted controls and kicks in automatically when pressure is applied to the pedals, providing a motorised boost which sends the Barnes and Robinson Electric Mountain and City bikes cruising along at speeds of up to 16m/ph.
Ideally suited for short trips and regular commutes, the bikes have an impressive range of approximately 30 miles on a full charge meaning they can easily get riders of all ages and abilities from place to place without working up a sweat.
Like our Scooter range we aim to bring you electric powered travel at an affordable price with our bike range. With prices for the Mountain bikes starting at just £949 and the City bikes at just £999 you can enjoy the benefits of electric power for less than you may have thought.
Bikes Specification
Barnes and Robinson Electric Mountain Bike
Power = 36 V 250 Watt Hi-Speed Brushless Motor
Battery = 36 V 10 Ah Lockable Lithium Battery
Maximum Speed = 16 MPH
Charge Time = 4-6 Hours
Range = 30 Miles
Wheels = 26 Inch double wall alloy rims
Supension = Front Forks
Gears = Shimano 7 Speed
Brakes: Front and Rear Disk Brakes
Barnes and Robinson Electric City Bike
Power = 36 V 250 Watt Hi-Speed Brushless Motor
Battery = 36 V 10 Ah Lockable Lithium Battery
Maximum Speed = 16 MPH
Charge Time = 4-6 Hours
Range = 30 Miles
Wheels = 28 Inch double wall alloy rims
Supension = Front Forks
Gears = Shimano 3 Speed
Brakes: Front V Brake, Rear Roller Brake