Cycling up the hills is more or less effortless.
by Philip Pask
(Harpenden, Herts. UK)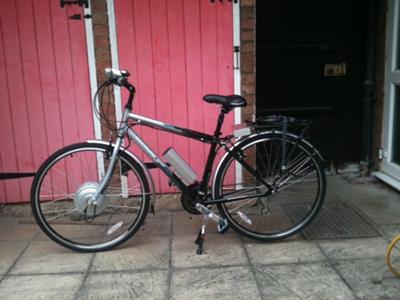 My trusty steed.
I'm not a driver due to controlled (but still potentially active) epilepsy, so I didn't get around a great deal under my own steam, but depended a lot on other people to give me lifts. When I was knocked off my post bike a few years ago, I still got straight back in the saddle (after a while) and when I received the compensation for the incident, I decided to buy myself some power of my own.

I had seen Powabykes before while we had been on holiday and marvelled at them then, so when I decided to get one, Powabykes was the first and really the only one I looked at. I live in Harpenden which is actually built in a valley so getting out just on my ordinary bike was always very much a drag because I live at the bottom of a steep hill and the town centre is down the other side of the hill.

But with the advent of my new Powabyke X24 cycling up the hills is more or less effortless. Obviously one has to put a bit of pedal power into it otherwise it would put too much strain on the motor, but it's so responsive it feels as though the motor is trying to make the bike go faster than you're pedalling. Absolutely effortless.

With Harpenden being quite hilly, I don't get quite as much mileage out of the battery as I was hoping to, usually about 8 miles on pedal assisted and about 5 - 6 miles under pure power (pedal unassisted) so I've bought myself a spare battery for longer rides or to use (if you like) as a spare tyre would be, if the battery is flat due to forgetting to recharge it. I keep one permanently charged and ready to fit in case it's needed.