Electric Bike Insurance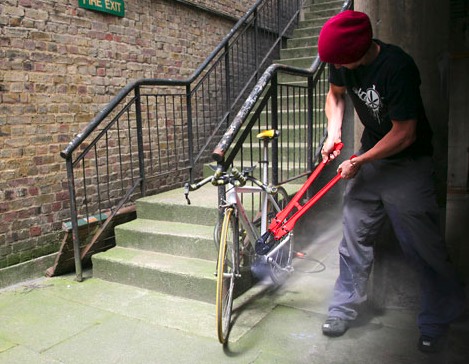 Getting Electric Bike Insurance will remove the risks associated with having your bike knicked. Obviously, there are precautions you should take but ebike insurance – particularly in urban areas – is becoming essential.
The BBC reckons one bike is stolen on average every 71 seconds in England alone, 90% of the time when the bike was left in public. With Government initiatives to encourage cycling, the problems will only get worse if cyclists don't secure their equipment properly.
Electric bikes, which are on the whole more valuable, are going to be even stronger targets for thieves. Precautions such as locks and chains can do so much to stop thieves, but only the best bicycle locks and tactics will deter thieves. Even hiding the bike away can make it more likely to be nicked.
eBike insurance gives you peace of mind as an electric bike owner. Sure, you may have the best locks in the business, but what's you're backup after that? There's no harm in looking at electric bike insurance and what it offers – it's a heck of a lot cheaper than a car for starters – but first, there's a couple of tricks worth knowing.
Important: most insurance companies require a gold, silver or bronze rated lock which is required depends on the value of your bike. Most e bikes will need a silver or gold rated lock.
You Can Get It On Your Home Contents Insurance
You can get it on contents cover for as little as £14 extra MoneySupermarket reckons; it pays to shop around. Contact your current home insurance provider and see what they can do for you; a quick browse around their website looking for details on bikes and contents away from home. Every insurer is different, so pay attention to the small print here. If scanning dense text doesn't sound like fun, phone them up and see what they can do for you.
You could pass it as an excuse to look at cheaper home insurance which covers an electric bike
TIP: If your bike is stolen, try to go through your local dealer or preferred online store – not necessarily whoever the insurance company phones up first.
Get Standalone Cover
With standalone cover, expect to pay around 10% of what the bike is worth. For a £500 electric bike, you can expect to pay a reasonable £40-60. Again, it's worth having a look at the different offers available. Double check what each insurer will pay out for – do you leave your bike away from home often?
Standalone electric bike insurance is better if you're home insurance provider can't help you out, and you don't want to move. You're also likely to be able to do more, like take your bike abroad on holiday if that suits you.
Does eBike insurance suit you?