Shimano Steps E Bike System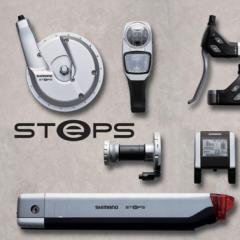 Shimano STEPS technology
At 3.1 kg for the groupset, it's one of the lightest drive systems currently available
Shimano has today revealed the production details of its Steps groupset, designed specifically for use with electric bikes.
Steps is designed to engage with some input from the rider, cutting out once the user has reached 25km/h. The entire groupset tips the scales at 3.1 kg, making it one of the lighter solutions for driving a pedelec. Steps has three types of power support modes; eco, normal and high. The preferred mode can be selected by an easy to operate switch. The eco mode has a range up to 120km. Normal mode 100km and the high mode 80km, though all of these ranges vary with road conditions. Feedback on remaining range is delivered via the handlebar mounted computer.
The Steps battery has a capacity of 418Wh and it takes four hours to completely charge the battery. There are two position types of batteries. A rear carrier type and a down tube type. The battery life is 1.000 cycles. After 1.000 cycles the battery still charges more than 250Wh.
Shimano has also revealed that the groupset could possibly integrate with Di2 internal hub gears, providing the rider with a number of advantages, most notably the Di2 internal hub gears maintain shifting performance under high chain tension by reducing motor power while shifting.
Another advantage is the possibility to connect Steps to a PC via Shimano's E-tube project. E-tube gives quick and easy access to the Steps system for simple installation and set-up options. For instance changing the function of the buttons on the switch, firmware updates and diagnostic analyses.
Pilot project with BIKE&CO and ZEG
From February to August 2014 SHIMANO will run a pilot project for Steps with dealer associations Bike&Co and ZEG in the German market. Both companies will develop E-bikes with the Steps drive unit which will be sold within their German dealer's stores. Besides the production bikes, both Bike&Co and ZEG will organise bikes to try (supported by Shimano) at their selected dealers where consumers can try the new E-bikes with the Steps drive unit.
Frank Peiffer, managing director Shimano Europe: "The E-bike market is a new segment for Shimano. Our service to the OEM's, dealers and consumers is key at the introduction of our Steps system. That is why we chose for a phased approach. The pilot project is a limited quantity in a limited sales channel with a direct service access. If there we gain experience and are convinced the product works, we expand it further to other players in Germany and the rest of Europe."
The initial delivery to OEM's is planned in August 2014.