World First GPS E-Bike Trial
by Daniel
(Melbourne, Australia)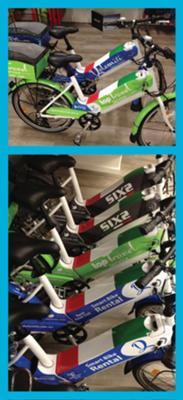 Throughout Europe, commuters are ditching high petrol prices for eco-friendly eBikes. We think it's time this trend reached Melbourne.
To help spread awareness, we're giving away 17 brand new SmartBikes worth more than $3000 each.
Well, we're kind of giving them away. We're looking for 17 SmartBike Ambassadors to ride them for us. Yes, you get to keep them 24/7.
Here's how the program works: Each Ambassador gets a new SmartBike for free. The only obligation is that you ride it at least 35 km per week on your commute to work. As long as you hit your target, you keep the bike. (We'll keep track through GPS.)
Some of these custom-designed Dolomiti SmartBikes have been fitted with WiFi, meaning your bike could be a hotspot. And like all of our pedal-assisted eBikes, they're powered by batteries (charge them like a laptop) with up to 70 km per charge.
Anyone with a commute to the CBD that's less than 20 km is invited to apply – even if you're not an avid cyclist. Apply by JUNE 8th.