Electric Powered Motorcycle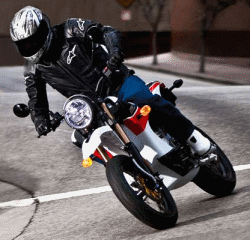 No longer is an Electric Powered Motorcycle a toy for hippies with a taste for speed. They are here, and commuters in London and across the UK is beginning to wake up to the range of benefits electric motorcycles bring. Electric bicycles are also on the rise in the UK.
So Simple, Your Granny Could Use One
Frightening thought perhaps, but it doesn't take a PHD to press an 'on' bottom. In fact everyone will be at home with electric motorcycle simple controls.
• No gears
• No clutch
• No hassle
All you have is a twist grip throttle and the controls for the breaks. It really is that simple. A motorbike license can be obtained relatively easily.
60 Miles in 60 minutes
With a 60 mile range on most current models like a Zero Motorcycle, you can easily cover length commutes quickly, slipping through the morning traffic (you'll put the "rush" back in rush-hour). And in as little as four hours, you'll be fully charged up again (from flat) ready to whizz through the traffic.
Electric Motorcycles Save You So Much Money, It's Unreal
No really; with petrol prices as they are, it doesn't make sense to be buying a petrol bike anymore – or even driving a car.
Cars are totally energy inefficient - for moving you around town, you're dragging with you at least a tonne or two of metal, engine parts, fuel, wheels, seats and all the rest of them. Have you tried pushing a car before? So you've felt exactly how hard it is, how much effort is needed.
Think of that effort being coins out of your pocket. Each revolution of your cars engine is costing you money (even when you're stuck in traffic). Why waste money powering a car?
Even with a traditional motorcycle, you're still paying for petrol. Charging up your motorcycle battery costs pennies – even at peak times, you won't be charged much more than 20p!
Faster than You Think
No really; 0-30mph in two seconds gives £100,000 sports cars a run for their money. Luckily, you can tune it down for a more leisurely ride through the city (although if you can use an offroad electric dirt bike).And with your superior acceleration, you'll be away from the lights lightening fast, every time – all the time.
No more traffic jams either; motorbikes can happily slip through the traffic.
So Are they in the UK?
Yes, there are a few models available, but some are more reliable than others. In general, China is leading the electric vehicle industry, including electric bikes – and various models produced by Chinese companies are being sold worldwide, including the UK.
The problem with these are the Chinese companies don't have the support networks in the UK. Supposing you have a problem, and try to get it fixed under warranty – your bike will need to go back to China first. Unless you're mandarin negotiating skills are top-notch, this can turn out to be a bit of a headache!
You need a dealer who a support network in the UK if something goes wrong. That includes a telephone number, trained mechanics and good English!
Thankfully, there is a company just like that. Zero Motorcycles are the leader in electric motorcycles and their superlight range of electric motorcycles. See this interview with the company's founder about Zero Motorcycles in London.
Return from Electric Powered Motorcycle to Electric Bikes Experts and read the full story